We focus on raising awareness about a meaningful life with dementia. It is paramount to continue to see the person behind the disease and help others understand this. We involve people with a form of dementia in our work and do not want to talk about them, but rather think with them and build a better and more inclusive future. 
We connect, advise and support countries, organisations and individuals worldwide with the aim of reducing the gaps in knowledge and learning together from solutions to address issues around dementia. Through various manifestations: social media, international documentary, and teaching packages, we also want to involve younger/future generations in particular in this pressing social issue.
3. Doing things differently
Together with partners, we build sustainable projects in the Netherlands and around the world for a better future for people with dementia and their environment. By not only telling how things can be done differently, but above all by showing this. In this way, we want to start a positive movement worldwide that puts people at the centre when it comes to social issues, decision-making and quality of life: #HumanForever.
Together with youth organisation Young Impact, the foundation developed an innovative and free teaching package in 2022. This teaching module informs and activates young people from secondary vocational education step by step to break the stigma surrounding dementia. After its launch in late 2022, the teaching package was downloaded more than a thousand times in a month, a clear confirmation of the need for a different way of looking at things.
The aim is to adapt the same successful teaching module in the Netherlands in 2023 so that it is also suitable for primary and secondary education, as well as rolling it out in Germany and Belgium. 
Before we can succeed in our mission to enhance the quality of life of people with dementia through knowledge sharing, there has to be a base to build on. And exactly that base is missing in the places we visited for filming our documentary. No beds, mattresses full of urine and faeces, no underwear, nor incontinence materials, clothes, toothpaste, soap and so on. Moreover, medical care is less than nil: pressure ulcers cannot be cared for and people are bedridden because of an ingrown chalk nail, for example. Therefore, no tall tales, but action!
Doing what can be done. Sounds simple, it is!
No large sums of money, but high-quality furnishings and materials that are renewed every five years in the Netherlands. In many countries, people with dementia live in degrading conditions. That is why the foundation started The Base Projects in 2022 by supplying a psychiatric hospital in Moldaviä with three trucks full of used and new goods, which mostly houses people with dementia. Through this charity route, we got in touch with the Minister of Health in Moldova and were able to share important knowledge about living with dementia.
As a nursing home resident, Teun Toebes experiences that living in a nursing home counteracts 'ordinary life'. He simply receives fewer visits from his friends because the nursing home is not a nice place to be. Maintaining a relationship is also difficult, as privacy is in a different light and the corridors are anything but atmosphere-enhancing. Real homeliness, real contact with loved ones and love, being together and making beautiful memories is missing. This has to change, so he wants to put his money where his mouth is by reconnecting people with dementia in a nursing home with society.
From the All-Inclusive project, the opportunity for nursing home residents and their relatives to be together will be created in an appropriate way. Day and night,
together in one bed, or just a single moment, which can be just as valuable. Especially for this purpose, we design a sustainable tiny house for loved ones. This home will be designed so that limitations are not an obstacle. In addition, the experience will be supported with scent perception and lighting that offers a sense of security. It will be a real (t)house where togetherness is central. An initiative that crosses borders, combats stigmatisation and provides space for real togetherness, real contact and room for love and making memories.
In 2023, this project was launched from two pilots in cooperation with care organisations. In consultation with municipalities, public spaces are made available for this purpose. The living unit is as normal as possible, so no large-scale sterile bedding, real plants and mood lighting. Everything to create a nice atmosphere and be 'normal' in the middle of society again for a while.
The loneliness figures are flying around your ears; where it used to only concern the elderly, these days it is increasingly the case among young people too. Moreover, both groups have no place to live, as waiting lists are so long that there are hardly any prospects. Right now, there is already a shortage of professional caregivers and care costs will grow to an unsustainable level. 'Het BejaardenThuis' should offer a solution where, through greater social cohesion, the elderly will require less long and less intensive care.
In the old people's home new style we want to encourage a 'positive move' and create a place where a good life is central. In turn, young people can get housing faster while being part of a small community where someone is always at home and has time for a chat. Living worlds literally connect, with the main aim of never forgetting each other and 'normal' life.
A plan is currently being worked on in close collaboration with KPMG and other partners. 
With the Pauzemobiel, we provide weekly moments of happiness, experience a break from the routine of daily life and seek out life! Through this wheelchair car, family members can join their loved ones with dementia in society and reflect on their memories. After all, being part of society should never stop after a diagnosis or living in a nursing home.
2.0: Pulsed for Dementia onderwijs
Eighty international students from different courses at Fontys Pulsed Academy followed an education module around social innovation for more quality of life for people living with a form of dementia. Together with people living with a form of dementia and thanks to the cooperation of Archipel Zorggroep, Vitalis Woonzorggroep and Ouderenlandgoed Grootenhout, the students immersed themselves in the Improving Human Care Together project.
Want To donate or be a volunteer?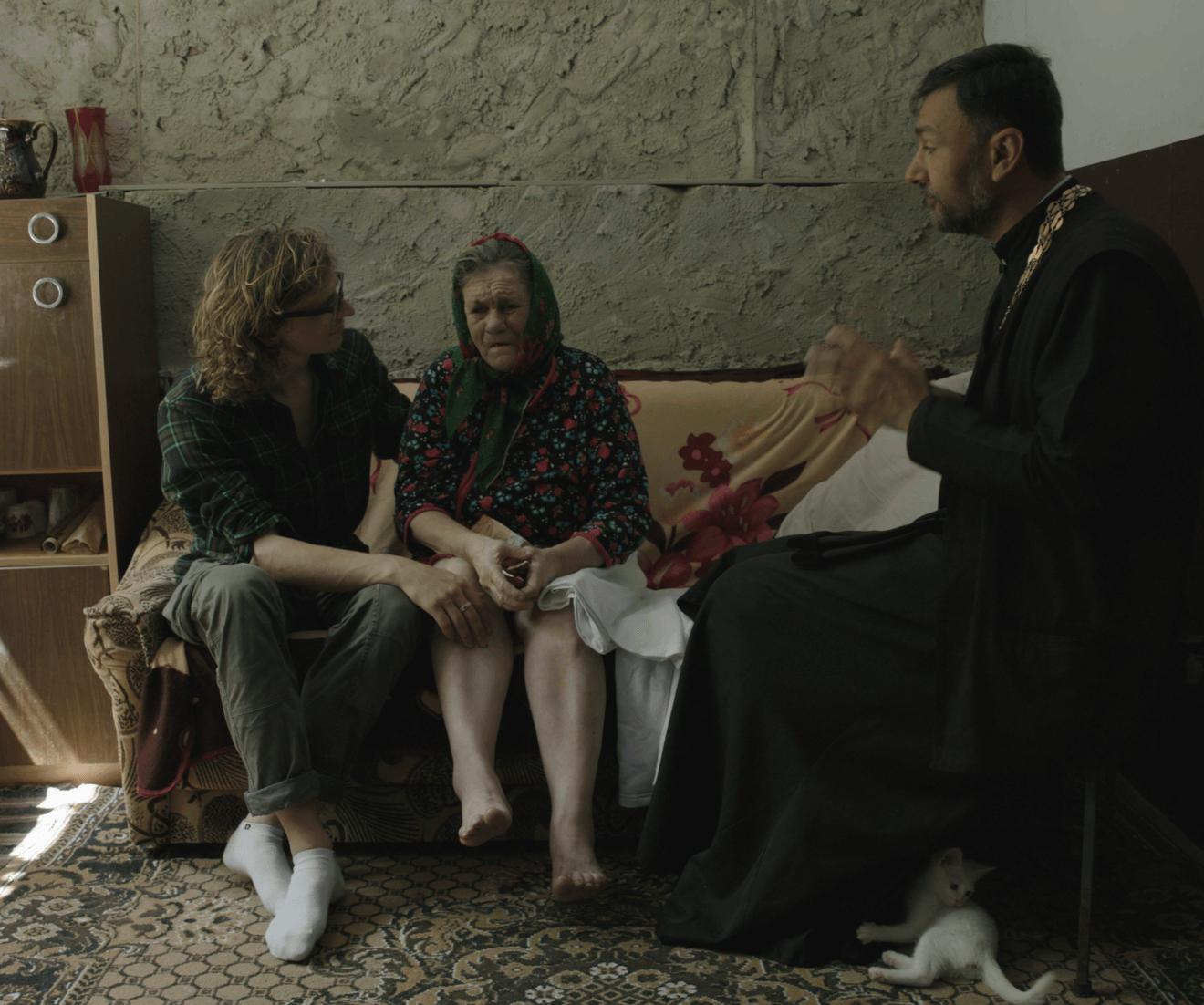 We remember their love when they can no longer remember
We make sure that your support reaches those who need it most. Every amount contributes to a better world for people with dementia, and we do our best to provide this help at the lowest possible cost. Because we believe that money given should be used for the purpose for which it was given.
The foundation to never forget